Do you need Travel Cover?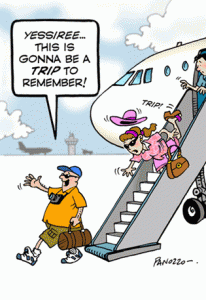 If you are travelling abroad for any period of time, then some sort of cover is probably essential even if it is the cheapest travel insurance. There are experienced travellers who fly all over the world on a regular basis and have never purchased any type of policy in their lives.One particular customer, lived in China and flew all over the world. He had plenty of mishaps, had cancelled flights, got stuck in Amman when war broke out, had all his documents and money stolen in Rome. He was imprisoned in Algiers for staying in a hotel with a woman to whom he wasn't married. He happened to be in Kabul when the Soviets invaded, and managed to drive from Tehran to Italy without any insurance on the vehicle. He puts these incidents down to experience and reckons he has saved a fortune on the money he would have spent on insurance.Whilst the cancelled flights and the loss of some money, passports etc was an inconvenience, he was lucky enough never to have had an illness or injury, which in some countries can cost a small fortune to treat. If holiday cancellation or loss of baggage doesn't bother you , then looking for a policy that just covers medical insurance may be the way to go. It is also worth thinking about the trip itself, how long it is and in what part of the world, before rushing out to buy a policy. You can
search for the best policies here
.
If you are travelling to Europe without any travel insurance whats the worst that could happen? Firstly you wouldn't be able to claim for any travel delay or cancellation of your flight (unless it falls under the
European regulation 261/2004
). What about any pre-booked accommodation, a hotel or villa. Unless you could re-book a flight this would be wasted. You wouldn't be able to claim for lost or damaged baggage (unless you have them
insured under your home insurance
) Of course if you are visiting a European country and have applied for and carry a European Health Insurance Card (see below) then you are entitled to take advantage of reciprocal health agreements with that country. The popular misconception is that it entitles you to free healthcare. In some cases this is true, but in the majority of cases the cost is only discounted and wouldn't cover items like an air ambulance or repatriation to your home country. See our
2018 article on the European Health Insurance Card
. So if you ended up having an accident or illness, even with the EHIC, it could still end up costing you a lot of money. If you were planning a cheap weekend away, then you might take the risk and in terms of financial losses, it wouldn't be the end of the world. However travel insurance for a
weekend away to France
for example only costs a few pounds, so I would argue that financially it makes no sense not to travel without cover.