Baggage Travel Insurance Tips
The inside scoop to getting the right cover
The cover, terms and conditions under the baggage section of a travel policy are particularly poor. Most policies have a limit of £1500 (some go up to £3,000) with a single article limit of £300 and most policies take into account wear and tear and require receipts for everything before they settle the claim. Chances are you are not going to get very much back if you have to make a claim.
Recent research from Which showed that over 50% of holidaymakers will take a smartphone with them. It found that nearly all of the 20 largest travel insurance companies had unrealistically low sums insured and once the excess and wear and tear had been deducted the amount was even lower.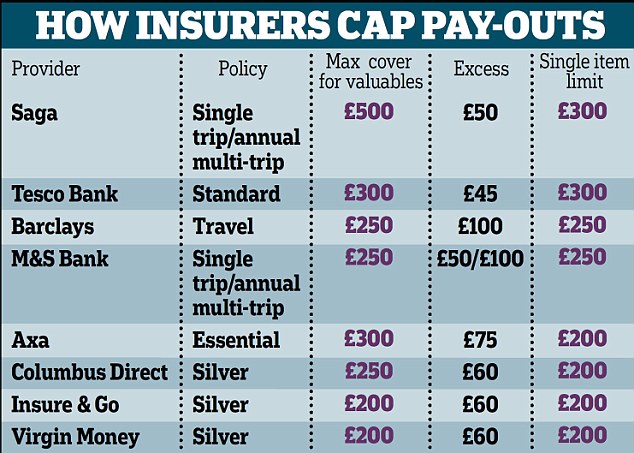 The right level of Cover
It is believed that the average holidaymaker takes over £3,000 worth of clothes, tablets, phones and toiletries with them when they go on holiday. Probably even more for a family of four including two teenagers. Combined with the fact that 15% of travellers also pack their holiday money in their luggage (an average of £500), you begin to get the picture. When you consider the cost of replacing your holiday baggage, its easy to appreciate that Baggage insurance cover under a travel policy falls well short of what is required.
What is the answer ?Most people in the UK will have some sort of contents insurance for their home (even if you live in rented accommodation) The majority of policies have a section of cover called personal possessions. This section is designed to cover items, (in the event of loss, theft or damage) that you take outside the home. For example if you had a handbag or briefcase stolen on your way to work, you would claim for this under the personal possessions section of your contents policy.
What a lot of people don't appreciate is that the personal possessions section of the policy normally covers your possessions anywhere in the world! Not only that, but the sums insured and single article limits are much higher than on a travel policy and in addition your contents cover will almost certainly be new for old.An example of personal possessions cover on a standard home insurance policy has a sum insured of £5,000 with a single article limit of £1500, it is new for old and covers possessions anywhere in the world for up to 45 days.
Important Notes
1. Check your contents insurance policy to make sure your possessions are covered anywhere in the world and that the sums insured are adequate. If you don't have personal possessions cover add it.
2. Choose a travel insurer that allows you to exclude the baggage section saving you money.
3. Enjoy your holiday safe in the knowledge that if the worst happens, your luggage and all it's contents are safely covered under your contents insurance policy.