What does a Travel Policy Cover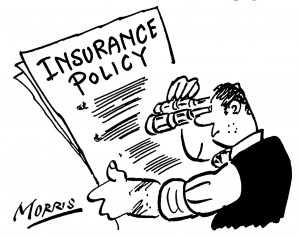 Before buying a travel policy the first thing you need to understand is what is actually covered. This article explains in simple terms each section of a standard travel policy. This is important because there may be sections of cover you don't need (they are covered elsewhere or you don't feel they are necessary) If you understand what a policy includes, when you buy travel insurance, you will be able to select a policy that covers only the sections you require, one that is suitable for your needs. Whilst the standard sections of a travel policy are broadly the same with each Insurer, there will be variations in terms of, sums insured, excesses, exclusions and there may be additional sections that are not standard on all policies.
CANCELLATION
This section covers cancellation or curtailment of your trip including early return. The cover itself is fairly simple, but there are a lot of areas covered, plus a fair amount of exclusions. A standard policy will pay out anywhere between £1000 - £12,500, although £5,000 per person is the most common amount. This section covers the loss of the holiday, and or any additional travel expenses incurred. The policy covers you, if you have to cancel the trip, the trip is curtailed or you have to make an early return because of any of the following events. The Death, Bodily Injury, Illness, or complications arising as a direct result of pregnancy of;
You and any person you are traveling with, a close relative, or close business associate
Compulsory quarantine, jury service attendance or being called as a witness in a court of law. (This applies to you or any person you are traveling with).
Redundancy for you or anyone you travel with (providing at the time the trip was booked there was no reason to believe anyone would be made redundant).
If you or any person you are traveling with are a member of the armed forces, police, fire or ambulance service or government employee and have your leave cancelled.
There is a directive from the Foreign and Commonwealth Office or World Health Organisation, either prohibiting travel or recommending evacuation from, the country or specific area you were travelling to.
There is normally an excess (the amount you have to pay) and this will vary from policy to policy. Existing medical conditions that could cause cancellation or curtailment will also be excluded unless these have been specifically cleared with the Travel Insurance Company concerned. Each policy normally has a list of exempt medical conditions. TOP TIP When selecting travel insurance consider the amount of cover offered for cancellation and curtailment and compare this to the actual expense of your holiday. The amount of cover supplied under a trip insurance policy, is usually specified for each person, not per policy. So consider exactly what your holiday costs per individual. Also keep in mind, this section is intended to cover unrecoverable expenses as a result of cancelling or reducing your vacation – so you can only claim for costs and expenses that a holiday operator won't refund to you.
EMERGENCY MEDICAL / REPATRIATION EXPENSES
This is the most important section of a travel insurance policy. Medical Expenses covers Emergency Medical costs, additional accommodation and travelling costs, and is designed to provide cover for unforeseen events, accidents, illnesses and diseases. The amount insured varies greatly between Insurers from £1,000,000 to £25,000,000 and in some cases an unlimited amount. This might sound like a huge amount of money, but in the event you are taken seriously ill, the bills can stack up very quickly. For example the cost of treating a heart attack with surgery in the USA would be over $200,000 (Washington post) with the cost of repatriation over $50,000. If a family travelling abroad were all seriously injured in an accident the bill could easily run over £1 million. I am not saying this is common, but that's why you have insurance! This section covers all emergency medical, surgical, hospital, ambulance, nursing fees and charges incurred whilst abroad, including repatriation for you and anyone travelling with you. Some policies will include emergency dental treatment. Most policies will have a 24 hour emergency helpline to assist you and authorize treatment in the event of an emergency.
TOP TIP Remember to make sure you are properly covered, you must declare any pre-existing medical conditions and if you are not sure it best to speak to the insurance company concerned.
HOSPITAL BENEFITS
If you have an accident or fall ill whilst on holiday, and end up staying in hospital, this section provides a benefit payment for each 24 hours that you spend in hospital. There is normally a daily amount and a maximum payout specified on the policy. (for example £25 per day up to a maximum of £250). This benefit is designed to cover those extra expenses you might incur as a result of being hospitalized.
PERSONAL ACCIDENT COVER
Your Travel Insurance Policy will normally provide an element of Personal Accident Cover This is a lump sum payment in the event of Death, Loss of one or more Limbs, Loss of sight in one or both eyes and or permanent disablement. The amount varies from policy to policy. Note that if you partake in certain adventurous or sporting activities, personal accident cover may be excluded, so it is best to check with the Insurer concerned if you are not sure.
BAGGAGE AND BAGGAGE DELAY

This is probably the section that generates more rejected claims and complaints to the ombudsman that any other. The reason for this will become very apparent. This section covers accidental loss, theft of, or damage to your Baggage up to the limit specified in the policy. You need to pay particular attention to the single article and valuables limit specified (for example total limit £1500, single article and valuables limit £300) If your baggage has been lost or mislaid (must be certified by the carrier) for more than 12 hours, you can claim back the cost of replacing essential items up to the limit specified, but you must make sure you keep the receipts. Things to bear in mind when looking at this cover
The amount payable will be the value at today's prices, and include a deduction for wear and tear and any excess specified in the policy.
You will be expected to have taken reasonable care of your possessions, as most travel policies exclude cover if valuables are left unattended at any time unless locked in a room safe.
When claiming, most Insurers insist on receipts as proof you owned the items and if your possessions were stolen they will also expect a police report.
If you add up the cost of possessions that you might take on holiday, camera, phone, i-pad, sunglasses, clothes, shoes, makeup, rings, earrings etc, the limits under this section are low in comparison. By the time you have jumped through several hoops, factored in the hassle of reporting any loss, not having receipts for every item you own, then being faced with a reduction for wear and tear and an excess, you could argue this section is not worth paying for. Some policies offer additional gadget cover for things like i-pads, mobile phones, laptops etc, so if you intend to take electronic equipment with you, this is something you may want to think about. Most Insurers have a long list of excluded items under baggage cover. This is an example of the typical exclusions Contact or corneal lenses; dentures; bonds; securities; stamps or documents of any kind, including driving licences and passports; musical instruments; typewriters; glass; china; antiques; pictures; pedal cycles;hearing aids; coupons; vehicles or accessories; boats and/or ancillary equipment; samples or merchandise or business goods or specialised equipment relating to a trade or profession, unused mobile telephone rental charges or pre-payment.
PERSONAL MONEY AND TRAVEL DOCUMENTS
The Personal Money and Travel Documents section of a travel policy, provides cover for accidental loss or theft of your personal money and or travel documents whilst you are on holiday. The policy normally pays out up to the limits specified on the policy for replacement money or replacement documents. Note: you will be expected to prove the amount of money you had, before it was lost or stolen and that it won't be covered if left unattended, unless it is in a locked safe or deposit box. You will also be expected to report the theft or loss to the police or authorities within 24 hours.
PERSONAL LIABILITY
Another important section in an online travel insurance policy, especially as lawsuits seem to be a part of our growing compensation culture. This section covers you against accidentally injuring someone or accidentally damaging or losing their property whilst on holiday. The sums insured range from £1 Million to £10 Million, which sounds a lot, but if you accidentally injured someone and caused them to be wheelchair bound for life, imagine how much the compensation would be? Under this section of the policy you would be expected to notify the insurance company of any potential claims as soon as they arise and forward on any writs or legal correspondence, to enable them to deal with any potential claim. The majority of policies will exclude liability if you use any form of mechanically propelled vehicle, (e.g. car, motor cycle, moped or scooter) sail or powered boat,or an airborne craft, whilst on holiday. If you are planning to rent a car whilst on holiday for example, you must ensure that you have separate cover for third party injury or property. Note: that under a normal travel policy, any claim whilst on business is excluded and you would need a business travel policy which we will look at separately.
LEGAL EXPENSES
This section covers your legal costs enabling you to pursue a civil action for compensation if someone else causes you bodily injury, illness or death, whilst you are on holiday. This normally involves the appointment of a lawyer on your behalf.
DELAYED DEPARTURE
This section provides a small benefit if your departure is delayed (inbound or outbound) due to strike, industrial action, adverse weather conditions, mechanical or technical fault. The benefit (a maximum of between £50 and £300) is paid out after a delay exceeding 12 hours and then for each additional 12 hours after that. The benefit is designed to cover extra costs to provide refreshments etc whilst you are delayed. The second part of the section covers you for any irrecoverable, unused travel and accommodation costs and any other pre paid charges, if after 12 hours you have to cancel your trip, or re arrange flights back home. Note: there are normally conditions attached to this section. You would be expected to have checked in and have written confirmation from the airline of the number of hours delay and the reason.
MISSED DEPARTURE
This is similar to the above section, but note that you can only claim under one or other of these sections not both. This section provides a benefit for reasonable additional accommodation and any additional travel expenses, to enable you to reach your destination or return home because you missed your departure due to, failure of public transport, and accident or breakdown of the vehicle you are travelling in, strike, industrial action, or adverse weather conditions. The sum insured is normally in the region of £500 – £1,000 depending on the policy.
You should now have a good idea of exactly what is covered under a standard travel insurance policy. As mentioned each policy will be slightly different. It is therefore important to work out how much and the type of cover you need, to ensure the policy is adequate for your needs and value for money
You must ensure you read your policy booklet carefully, in conjunction with your schedule of insurance, to make certain you have the correct cover and you have disclosed all material facts.
Below is a list of some of the additional cover that some policies offer either as standard or as addons.
Wedding/Civil Partnership Cover
Pet Care
Ski/Winter Sports
Business Travel
Independently booked accommodation protection
Personal assistance services
Hijack
Read our article on
Baggage Insurance Tips