The second part of this article looks at the additional cover available through travel agents and travel companies. How exactly is the cost of a holiday or flight covered in the event of a problem that is outside of your control? Is direct travel insurance the better option?
ATOL The Air Travel Organisers Licence.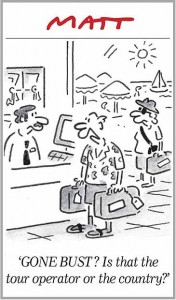 By law, every UK travel company which sells air holidays and flights is required to hold an ATOL, which stands for Air Travel Organiser's Licence.
ATOL was originally set up in 1973. At that time there was a rise in the number of travel companies that went bust leaving people stranded and financially out of pocket.
The UK government had no choice but to regulate the travel sector, providing protection for consumers.
Originally the scheme incorporated charter flights and package holidays, because that was how most people booked a holiday and this worked very well. The government realised that in the forty years since the scheme was set up, the advent of the internet had seen a change in the way consumers shopped for holidays.
With access to the huge amount of information available online, a large number of consumers now book parts of their holidays separately to get the best possible prices.
The ATOL Scheme in 2012
As a result in 2012, the ATOL scheme was amended to cover all overseas air holidays where a flight and accommodation have been booked together and also covers some flights separately.
ATOL is run by the Civil Aviation Authority, they charge travel companies £2.50 for each person who books a holiday through an ATOL protected company. This goes into the pot to protect consumers from Travel Company Failures.
What the Scheme Covers
The ATOL website states that the law says your holiday must be protected if you book a holiday with a single travel firm that includes: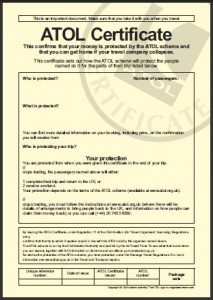 flights and accommodation (including a cruise), or.
flights and car hire, or
flights, accommodation and car hire.
Your holiday must involve at least one flight to or from the UK. For instance, a fly/cruise break where you travel out by ship and fly home, or a holiday in France where you travel out by Eurostar but fly home. If your travel company collapses while you are on holiday, the scheme will make sure you can finish your holiday and get home as planned. If the company collapses before you leave the UK, the scheme will provide a full refund for the holiday.