Flight Cancellation and EU Rules
What responsibilities do the Airline Companies Have?
Before rushing out to get travel insurance quotes, it is important that you read this article. If you have only booked a flight and it does not fall under the protection of ATOL, what rights do you have, in the event your flight is cancelled or delayed?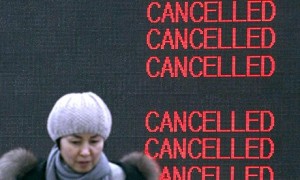 Thanks to an EU judgement on the 23rd October 2012 EC
Regulation 261/2004
, clear guidelines have now been put in place, so that passengers flying from any EU airport, or from an airport outside the EU to an EU airport via an EU carrier, all have the same protection afforded to them.(You must have a confirmed flight reservation. If you are flying outside the EU and the above doesn't apply you will need to check the airlines own policy as to what is and isn't covered) The rules and regulations are as follows.
What are the flight cancellation rules?
Firstly if your flight is cancelled, you are entitled to a full refund of the unused portion of your ticket (for example if the cancellation was on the return leg of a holiday, then only that portion would be refunded). You are also entitled to a return flight to your original departure point.
In the event of cancellation, you are also entitled to two free phone calls, free meals and soft drinks, suitable to the delay and free hotel accommodation and transport to that hotel, if you need to stay overnight.Some airlines will arrange all this for you, or they will reimburse the reasonable costs, if you have to make the arrangements yourself. It is important that you discuss this with the airline at the time and keep any receipts.
What are the new European Union Rules?
New EU rules also mean that if your flight is delayed, you can now claim compensation as follows:
length of journey up to 1500km and more than three hour delay compensation = 250 euros
length of journey 1500 – 3500km and more than three hour delay compensation = 400 euros
more than 3500km between 3 – 4 hours delay, compensation = 300 euros
more than 3500km more than 4 hours delay compensation = 600 euros
If your flight was cancelled
up to 1500km up to 2 hours €125
up to 1500km more than 2 hours €250
1500km – 3500km up to 3 hours €200
1500km – 3500km more than 3 hours €400
more than 3500km up to 4 hours €300
more than 3500km more than 4 hours €600
There are of course some caveats to this and they are as follows:
If the airline informed you of the cancellation at least two weeks before departure.
If the cancellation was between two weeks and seven days before departure and an offer or re routing is within specific timescales and close to the scheduled departure and arrival times.
If you were informed of the cancellation within seven days before departure and re routing is offered with a new departure time of no more than one hour and a new time of arrival less than two hours from the original flight times.
What are extraordinary circumstances?
Finally, the airline is not legally obliged to pay compensation if it can prove that the cancellation was caused by "extraordinary circumstances " which could not have been avoided even if all reasonable measures had been taken. Those circumstances might occur in cases of political instability, meteorological conditions incompatible with the operation of the flight concerned, security risks, unexpected flight safety short comings and strikes that affect the operation of an air carrier. To give you an example, if your flight was cancelled because of Hurricane Sandy, you would not be able to claim compensation as listed above, because it was classed as an extraordinary circumstance. This is why holiday insurance is important, to make sure your policy will cover these exclusions