If you are planning a trip to France in the next three months and it will involve travel by Train or car, then you should read this article carefully to find out what is happening with the French Rail strike. How this will affect you and what what you can do about it.
What is the French Rail strike about?
Essentially this is about President Macron's labour reforms. Specifically the SNCF (Societe nationale des chemins de fer). The National Society of French Railways, is France's state owned national railway. It covers the national rail network which includes the TGV , the french high speed rail network.
The railway is in debt to the tune of 45 billion euros and this account is currently held separately to France's overall debt.
Since the 1930's (when the railway was nationalised), the French railway unions and their workers have enjoyed wide ranging perks and a job for life contract, which allows many of then to retire as early as 50 with an accompanying pension.
Most employees would be envious of their packages, including automatic pay rises, a minimum of 28 days holiday, protection from dismissal and free rail travel for themselves and their relatives.
Recent government commissioned reports have found that the status quo cannot remain. Even with the huge amount of debt, spending has been concentrated on the TGV line, to the detriment of all the other lines.
As a result recent accidents have been blamed on the poor maintenance of services, which until now have carried the bulk of passengers.
The reports conclusion is that there are "serious failings in the quality of service" and the "current economic model threatens its future".
President Macron has a two pronged approach.
1. To combine the debt with the existing French deficit
2. Wide ranging reforms of the workers contracts, which unions believe will bring an end to nationalisation and pave the way to privatisation (similar to the United Kingdom which privitised their railways between 1994 and 1997)
Who is on strike?
There are four main rail unions in France and 77% of drivers are believed to be involved in the French rail strike.
In total about 35% of the workforce are expected to come out in support.
At the same time, the French government is looking at rubbish collection, the energy sector and university entry regulations, all of which are causing additional problem, including thousands of striking students.
Staff at Air France are also on strike over pay rises and flights have been reduced by about 25%.
President Macron was elected on these promised reforms and although he enjoys huge support for the changes, there is still opposition by the unions, from teachers, nurses and other public sector workers.
The situation in France is going to be very sticky for the next six months.
How is the French Rail strike happening?
The first day of the French Rail strike was 3rd April 2018 (dubbed black Tuesday), but the industrial action is expected to affect two out of every five days for the next three months. The image below shows the expected days of disruption.
Which services will be affected?
If you are planning to travel to France by Eurostar, we have been advised that about seventy five percent of services are running as normal. Trains to Belgium, Germany and the Netherlands are running as scheduled, but there are no services to Spain, Switzerland or Italy.
Contact Eurostar direct for up to date information www.eurostar.com/service-updates
If you are planning to travel through France via the TGV line, then be aware that on strike days, only one in eight trains will be running.
Only one in five regional trains will be moving and this is likely to cause huge congestion and delays for any commuters.
Contact SNCF for the latest updates www.sncf.com/service-updates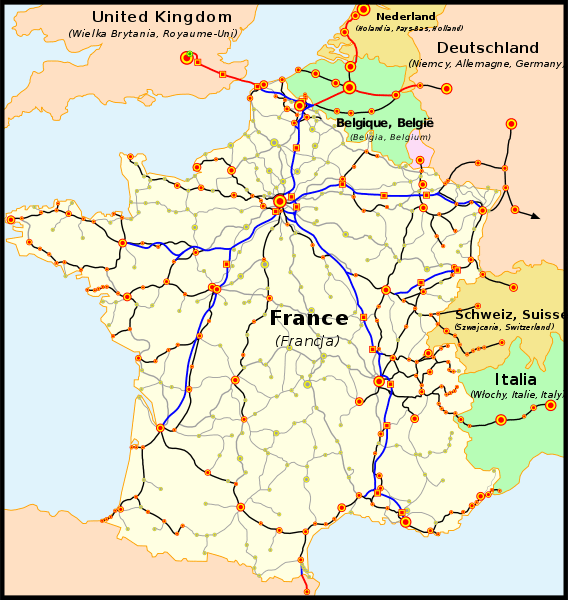 If you are driving around the centre of Paris, the strikes will have a major knock on effect to motorists with reports yesterday of nearly 300 miles of traffic jams.
Will this affect my trip to France and what can I do about it?
Unfortunately there is nothing you can do about the strikes. If you are visiting France by train or car, be prepared for delays and possible cancellations.
ThatsInsurance advice
1. Compare the dates of travel with the expected strike dates
2. Contact the travel companies to find out what delays are planned and how this affects your travel.
3. Check your travel insurance policy to see what cover you have to compensate you for any delays or cancellations.
The rules and regulations for compensation in respect of Eurostar delays are different to Airline Compensation rules.
If you arrive and your train is delayed by over one hour, you are entitled to food and refreshment appropriate to the amount of time you are delayed.
If the delay means that you are stranded overnight, you are entitled to accommodation and transportation to and from the hotel.
If your train is delayed by more than an hour, you have several options;
You can claim a partial refund of the ticket price, which varies according to the length of the delay.
For delays of between one hour and two hours, you are entitled to claim 25% of the ticket value.
For delays of between two hours and three hours, you are entitled to claim 50% of the ticket value.
For delays of three hours or more, you are entitled to claim 75% of the ticket value.
The compensation is in the form of a E-Voucher which allows you to purchase future Eurostar tickets that can be used up to 12 months after the disrupted journey.
If you don't want an e-voucher you can request a partial cash refund which is 25% for delays of between one and two hours and 50% for delays of two hours or more.    You can completed the online claim form here, but you need to wait for 24 hours before you are able to claim.
2. If you have not travelled and your train is likely to be cancelled or delayed for at least an hour, you can choose not to travel. You have sixty days to either exchange your ticket for free giving you a further six months time frame to travel using the tickets. Or you can request a full refund of your tickets.
International Travel by Train is covered by COTIF (Convention concerning International carriage by Rail) rules set out in 1999. These rules have been adopted by over 45 different countries.
The COTIF rules state the following for delays and cancellations
"The provisions in relation to delays and cancellations are not mandatory and may only apply to international rail services.
Where you will be delayed more than 60 minutes due to a delayed or cancelled train, you have a right to choose between one of the following:
Repayment of the full cost of the ticket for the part or parts of your journey not made and for the part or parts already made if the journey is no longer serving any purpose and, if relevant, a return service to the first point of departure at the earliest opportunity.
Continuation or re-routing, under comparable transport conditions, to your final destination at the earliest opportunity.
Continuation or re-routing, under comparable transport conditions, to your final destination at a later date at your convenience.
Where you will be delayed more than 60 minutes and you have not chosen a refund of the cost of your ticket as mentioned above, you may claim compensation as follows:
25 % of the ticket price for a delay of 60 to 119 minutes.
50 % of the ticket price for a delay of 120 minutes or more.
The compensation must be paid within one month. It may be paid in vouchers or other services, but must be paid in cash if you request it. You have no right to compensation if you were informed of the delay before buying your ticket.
The railway operator is not liable for damages if the cancellation, late running or missed connection is attributable to circumstances not connected with the operation of the railway or to the behaviour of a third party, neither of which the railway operator could avoid, or is due to a fault on the part of the passenger.
While you are waiting
If a train is cancelled or delayed, you have the right to adequate information about what is happening while you are waiting. If you are delayed more than 60 minutes, you have a right to:
Meals and refreshments in reasonable relation to the waiting time.
Hotel or other accommodation, and transport between the railway station and place of accommodation, where a stay of one or more nights becomes necessary.
Alternative transport if the train is blocked on the track."
Unfortunately there is no compensation for cancelled accommodation or pre-paid excursions and this is why choosing the right travel insurance policy becomes important.
Delayed Departure or Abandonment
Four and Five Star rated policies will provide cover if you have arrived at your departure point and been delayed as a result of strike action for at least 12 hours. Policies will provide an amount (listed in the policy schedule) meant to cover items you need during the delay refreshments telephone calls etc, provided you eventually travel.
If you end up abandoning your trip, Insurers will pay for unused travel and accommodation expenses, including any local pre-paid excursions, tours or activities, up to the amount listed in the policy schedule.
Please note that you can't claim for both and that you will need to get written confirmation of the length and type of delay from the transport company. If the strike had been publicly announced before you took out your travel insurance policy, then you would not be able to claim. Another reason it's so important to take out travel insurance as soon as you book your trip.
Missed Departure
Insurers will pay up to the amount shown in the schedule of insurance for reasonable additional accommodation and travel expenses necessarily incurred in reaching your overseas destination as a result of strike action.
Note that you can only claim for either delayed departure or missed departure, not both.
If you have any questions on the above information or need any assistance, feel free to email us at enquiries@thatsinsurance.com.