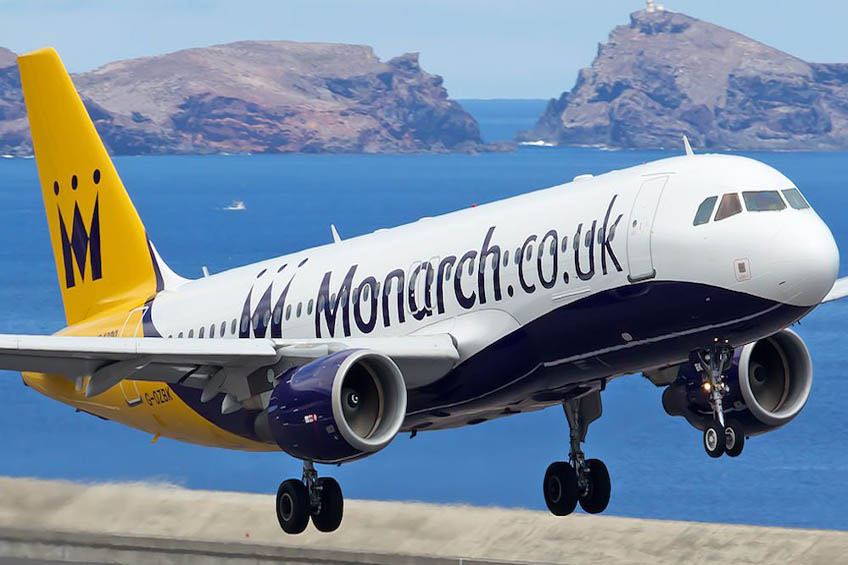 Monarch Airlines have ceased trading today leaving 110,000 passengers stranded abroad and 300,000 passengers having had their bookings cancelled an article in the Daily Mail states today.
The Civil Aviation Authority has been asked by the government to charter over 30 planes to bring people back to the UK, but where do you stand if you have paid out for a flight or holiday and want to make a claim?.
Our recent article about Ryanair Flight Cancellations explains what statutory claims you have in relation to your flight, but what about Insurance?.
Firstly, you will need to locate your policy document, this will show you which sections of cover you have paid for on your policy. We show an example on our quotes page of the primary cover this is the section, where you will also see whether you have cover for either of the following:
Scheduled Airline Failure
Financial Failure or End Supplier Failure
If you have cover under either of these sections on your policy, then you will have some claim against your Insurance, terms and conditions as to what and what isn't covered and the maximum amount you can claim will also vary depending on the level of cover purchased.
Scheduled Airline Failure
This section will typically only cover you in the event of the insolvency of the airline itself (provided the airline qualifies as a scheduled airline - as chartered flights, booked as part of a holiday package are not applicable). We've analysed all policies listed on our website and where cover exists, the level ranges from just £100 for a 1 - 3 star, to £10,000 for the best 5 star policies. Only around 35% of the policies we list on our website actually offer this cover as standard, so if you have purchased a cheaper policy you may be disappointed.
Whats covered?
Quote source Flexicover Travel Insurance Policy Document 2017
Below is a general description of the sort of things this section is and is not intended to cover, however you should look at your own policy documents which you should have received when purchasing your policy.
"The following definitions apply specifically to this section:
Irrecoverable loss
Deposits and charges paid by you for your trip which are not recoverable from any other source including but not limited to insurance policies or financial bonds and guarantees provided by the scheduled airline or another insurance company or a government agency or a travel agent or credit card company.
Trip
The outward journey and return journey on a scheduled airline booked and paid for by you.
Scheduled airline
An airline upon whom your trip depends operating a regular systematic service to a published timetable whose flights are available to paying members of the general public on a seat only basis and which is not part of a package holiday arranged by a tour operator.
Insolvency or financial failure
An event causing the cancellation of all or part of your trip happening after you purchased this insurance which results in the scheduled airline no longer carrying on its business or service as a result of financial failure within the meaning of the Insolvency Act 1986 or any statutory modification or re-enactment thereof or a similar legal action in consequence of debt under the jurisdiction of a competent court in another country."
Whats not covered
Quote source Flexicover Travel Insurance Policy Document 2017
"The policy excess as shown in the summary of cover for each and every claim per incident claimed for under this section by each insured person.
Your scheduled airline being in administration or, in the USA and Canada, in Chapter 11 at the time of taking out your policy.
You being able to obtain a refund from any other source, where your scheduled airline is bonded or insured elsewhere or where you have paid for the flight by credit card and can claim a refund from the credit card provider, even if the payment is insufficient to meet your claim.
Any expense following your disinclination to travel or to continue with your trip or loss of enjoyment on your trip.
Any expense arising from circumstances which could reasonably have been anticipated at the time you booked your trip.
Any form of travel delay or other temporary disruption to your trip.
Any loss sustained by you when the Insurance Policy or other evidence or coverage was effected after the date of the first threat of insolvency or financial failure (as defined herein) of the scheduled airline or other relevant company was announced.
Any loss sustained in respect of Charter flight tickets associated with a package holiday and/or other flight tickets not on a scheduled airline as defined. Anything mentioned in the General exclusions.
You are not covered - if for example - you booked a package holiday and the holiday company chartered a Monarch Flight to provide the air travel element of your holiday. You are also not covered for any other booking made as part of the holiday e.g. hotels, excursions, car hire etc. Payment of this cover section only covers the Scheduled Airline Costs, it does not cover you for the whole holiday.
Finanical Failure
This section will cover you, for other elements of your holiday that were booked in the UK prior to departure. Even less Travel Policies offer this as a standard option, our search shows that around 25% have this cover. Cover levels ranging from £300 for 3 star or less policies, up to £10,000 for 5 star policies.
What's Covered
Quote source John Lewis Travel Insurance Single Trip/Annual Trip Policy Document
"If your end supplier becomes insolvent we will pay up to £x for:
1. Irrecoverable sums paid in advance in the event of insolvency of the end Supplier not forming part of an inclusive holiday prior to departure or
2. In the event of insolvency after departure:
(a) additional pro rata costs incurred by you in replacing that part of the travel arrangements to a similar standard of transportation as enjoyed prior to the curtailment of the travel arrangements or
(b) if curtailment of the holiday is unavoidable - the cost of return transportation to the United Kingdom to a similar standard of transportation as enjoyed prior to the curtailment of the travel arrangements.
Provided that in the case of 2(a) and (b) above where practicable you have obtained our approval prior to incurring the relevant costs by contacting us as set out below."
What's not Covered
Quote source John Lewis Travel Insurance Single Trip/Annual Trip Policy Document
"End Supplier arrangements not booked within the United Kingdom prior to departure
2. The financial failure of:
(a) any end Supplier in Chapter 11 or any threat of insolvency being known as at the time of the booking
or taking out this insurance
(b) any end Supplier who is bonded or insured elsewhere
(c) any travel agent, tour organiser, booking agent or consolidator with whom you have booked travel or accommodation
3. Any loss for which a third party is liable or which can be recovered by other legal means
4. Any losses which are not directly associated with the incident that caused you to claim. For example, loss due to being unable to reach your pre booked hotel following the financial failure of an airline."
Whilst this still doesn't provide cover for package holidays, anyone who purchased a deal from Monarch Holidays Ltd should contact ATOL as Monarch Holidays were a member
What can you do if you don't have this cover on your policy
If you purchased any travel, flight or holiday using your credit card, you are entitled to claim the money back from your credit card company, so if you have no other cover, then contact them.
If you have any specific queries, and you wish to get in touch, please comment below or email us directly on enquiries@thatsinsurance.com